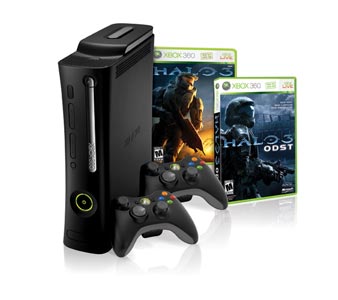 Starting Today Microsoft is releasing a Canadian Exclusive Holiday Bundel, the Xbox 360 Elite Special Edition with Halo 3 and Halo 3 ODST.
Available at retailers across Canada starting December 1, 2009 – have not found these on the web yet so check your local stores. This Xbox 360 Special Edition bundle includes a 250 GB Hard Drive, two black wireless controllers and matching black Xbox 360 Headset for just $399.99 CAD.
This bundle also included is your invitation to participate in the Halo: Reach Xbox LIVE multiplayer beta, available with Halo 3: ODST.